With war again in Europe, we recall an Ormondian who made a little- known contribution to a previous war, and whose birthday was this week. Codebreaker, intelligence officer, singer, television presenter and professor, Brinley Newton-John was Master of Ormond from 1954 to 1958.
Brinley brought with him to Ormond his five-year-old daughter Olivia Newton-John. In her memoir, the superstar recalls living in Allen House and pretending to be an explorer or princess inside its neo-Gothic stone walls.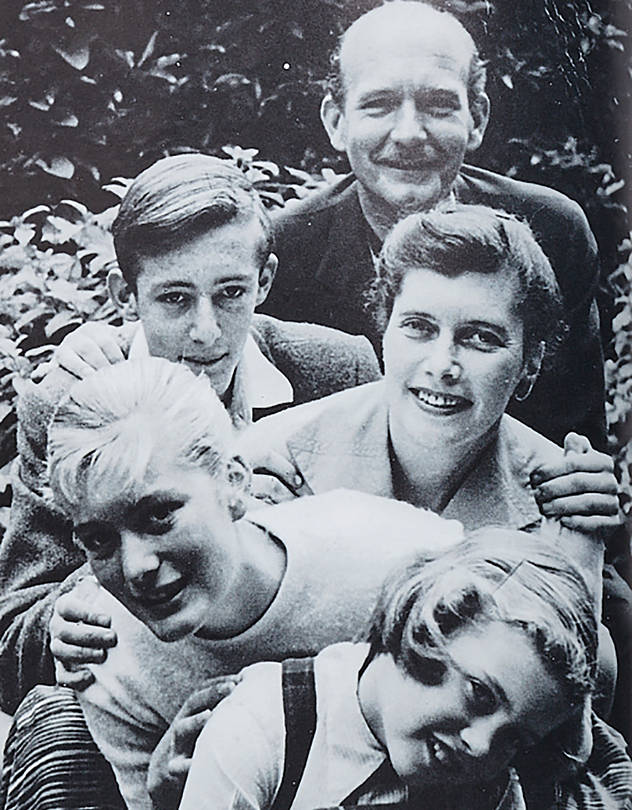 The Newton-John family upon their arrival at Ormond, Brinley at back and Olivia at front.
Prior to arriving at Ormond, Brinley was an intelligence officer in World War II. He used his exceptional German language skills and charm to gain the confidence and secrets of Germans including Rudolf Hess, a leading Nazi. Later, Newton-John worked at Bletchley Park deciphering intelligence gained the British broke the German Enigma Code.
At Ormond, Brinley had an excellent rapport with students. He oversaw the construction of the Lodge and the planning of O-Wing and Picken Court, the latter of which doubled the size of Ormond's student population.
Brinley left Ormond to become a Professor of German Literature. He was also a talented singer who had contemplated pursuing a career in music; an
amateur actor and later host of his own television and radio shows.
Ormond commissioned a portrait of Brinley Newton-John but it was later replaced with another that the subject's family thought more accurately reflected his gregarious personality. This newer portrait hangs in the Dining Hall.
Share your Ormond story
Every Ormondian has their own unique experience of College life, and their own story to tell. What Ormond moment stands out in your memory? Whether on the sporting field or the stage, in the JCR, Dining Hall or on Picken Lawn, share your favourite story of life at Ormond College.