On 18 March 1881, Ormond College was officially opened by the Governor of Victoria. The ceremony was attended by 400 people, including the College's newly-minted Master, a twenty-nine-year-old Irish mathematician named John MacFarland.
A man of few words, his employers were relieved that he 'expressed himself coherently, if briefly.' On that day, the front wing of Main Building was the only structure yet built on the grounds. It contained bedrooms, tutorial rooms, offices, the kitchen and the Master's residence.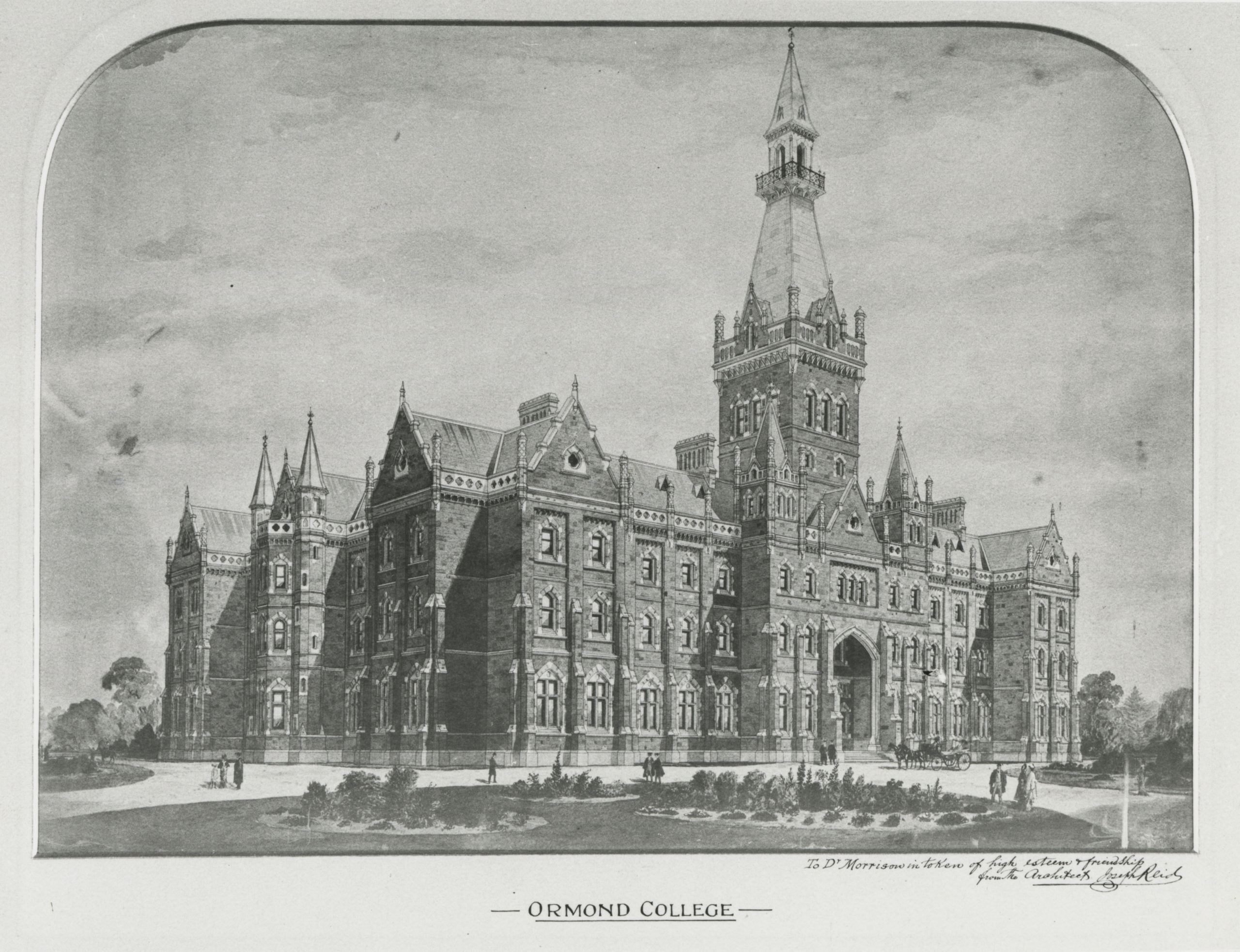 This hand-drawn sketch of Main Building was a gift from its architect Joseph Reed to Chair of the College Council Alexander Morrison.
The grounds were soon also home to the Master's vegetable garden and some cows. Main Building was entirely funded by Francis Ormond, and the first College Council raised other donations for scholarships and salaries. Within 15 years the College had grown enough to complete two more wings of Main Building as well as the Dining Hall, again all funded by Francis Ormond.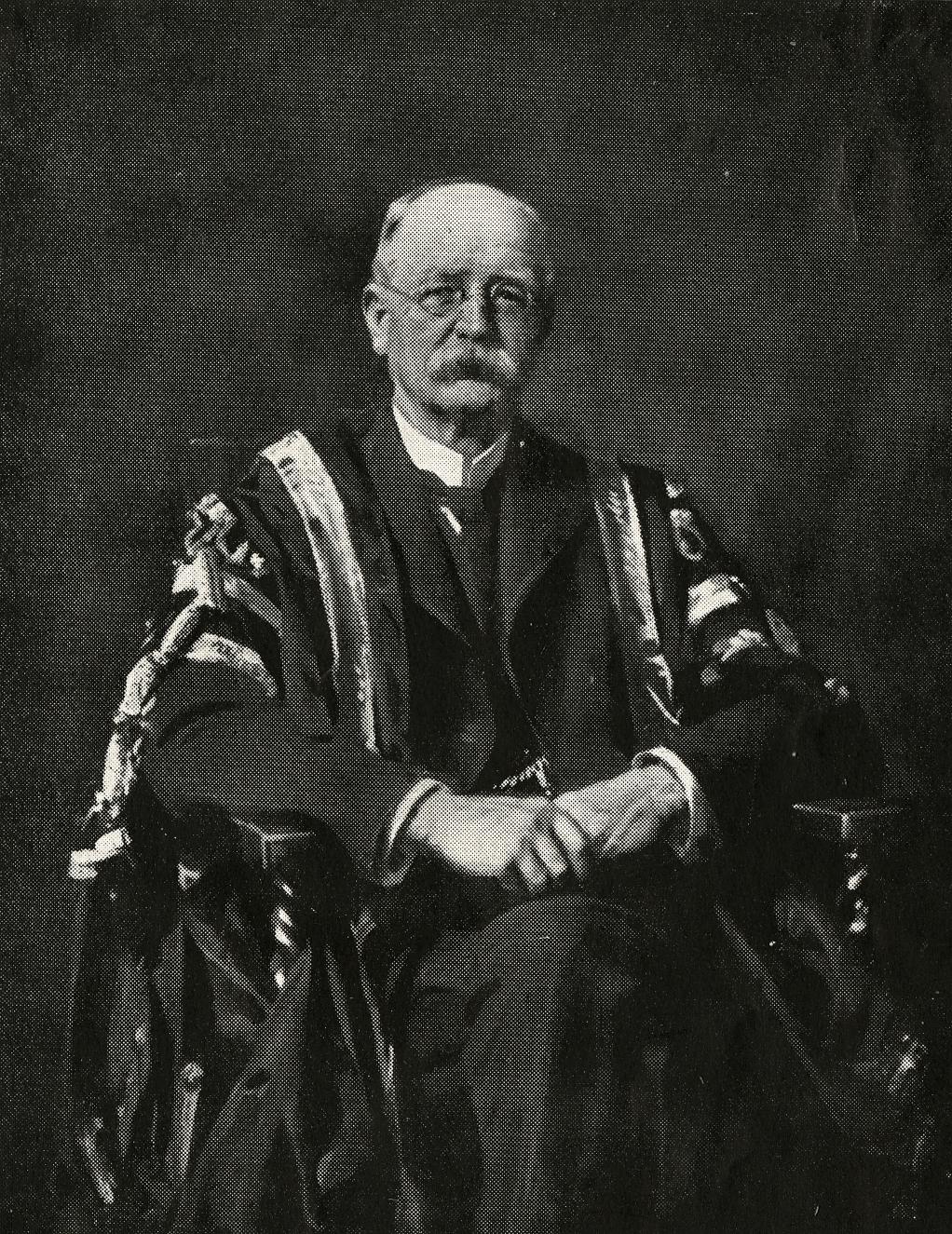 MacFarland was Master of Ormond College from its opening in 1881 to 1914, Vice-Chancellor of the University 1910-1918 and Chancellor 1918-1935.
In the evening on that opening day, the Master and our first 12 students sat down for the College's first Commencement Dinner, dining on a menu of bread and cheese. The limited menu was not part of the plan, but the unfortunate result of a misplaced key to the food cellar!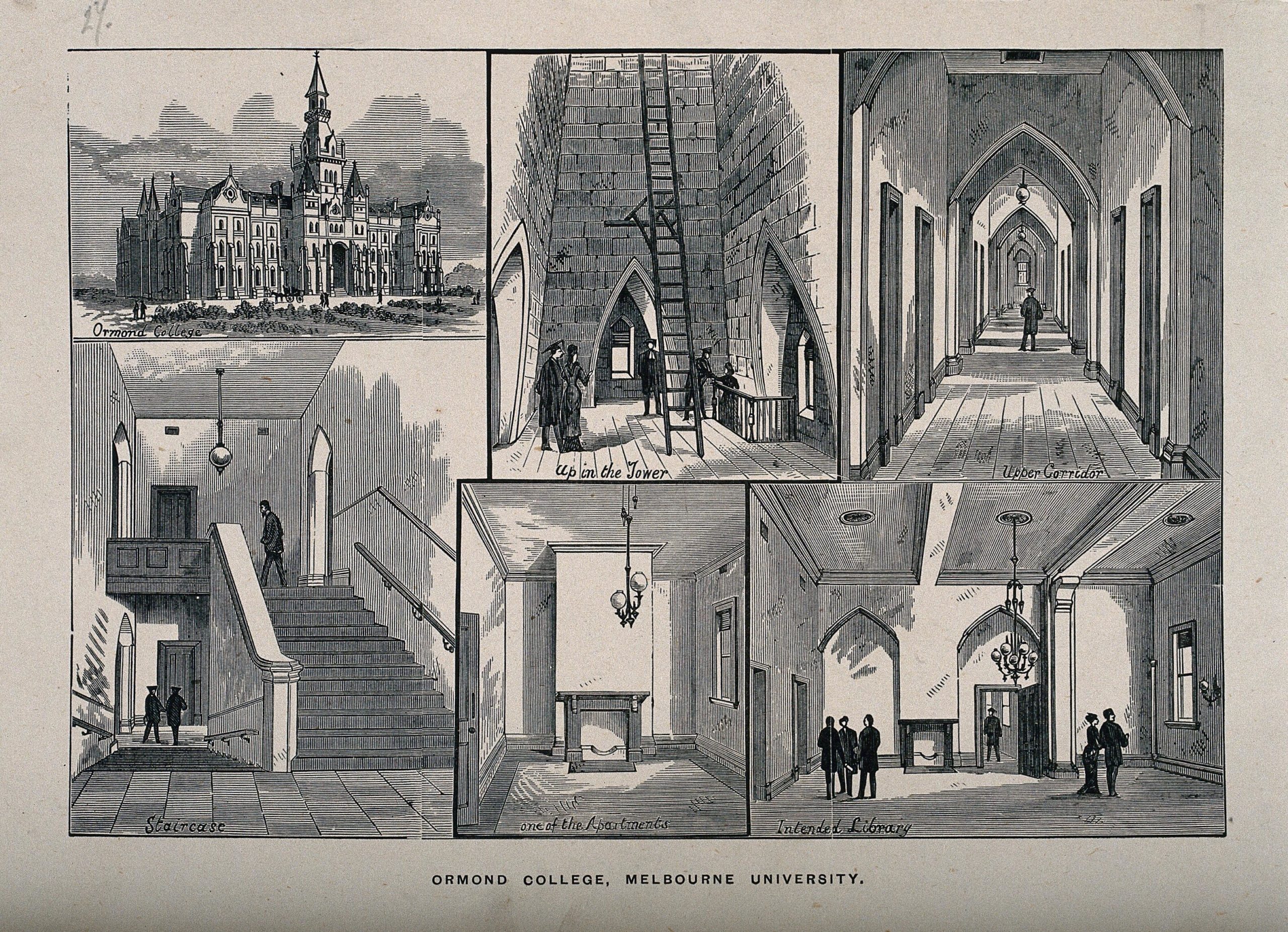 These sketches of Ormond and its still-bare interiors were published in a Melbourne newspaper with reports of the College's official opening.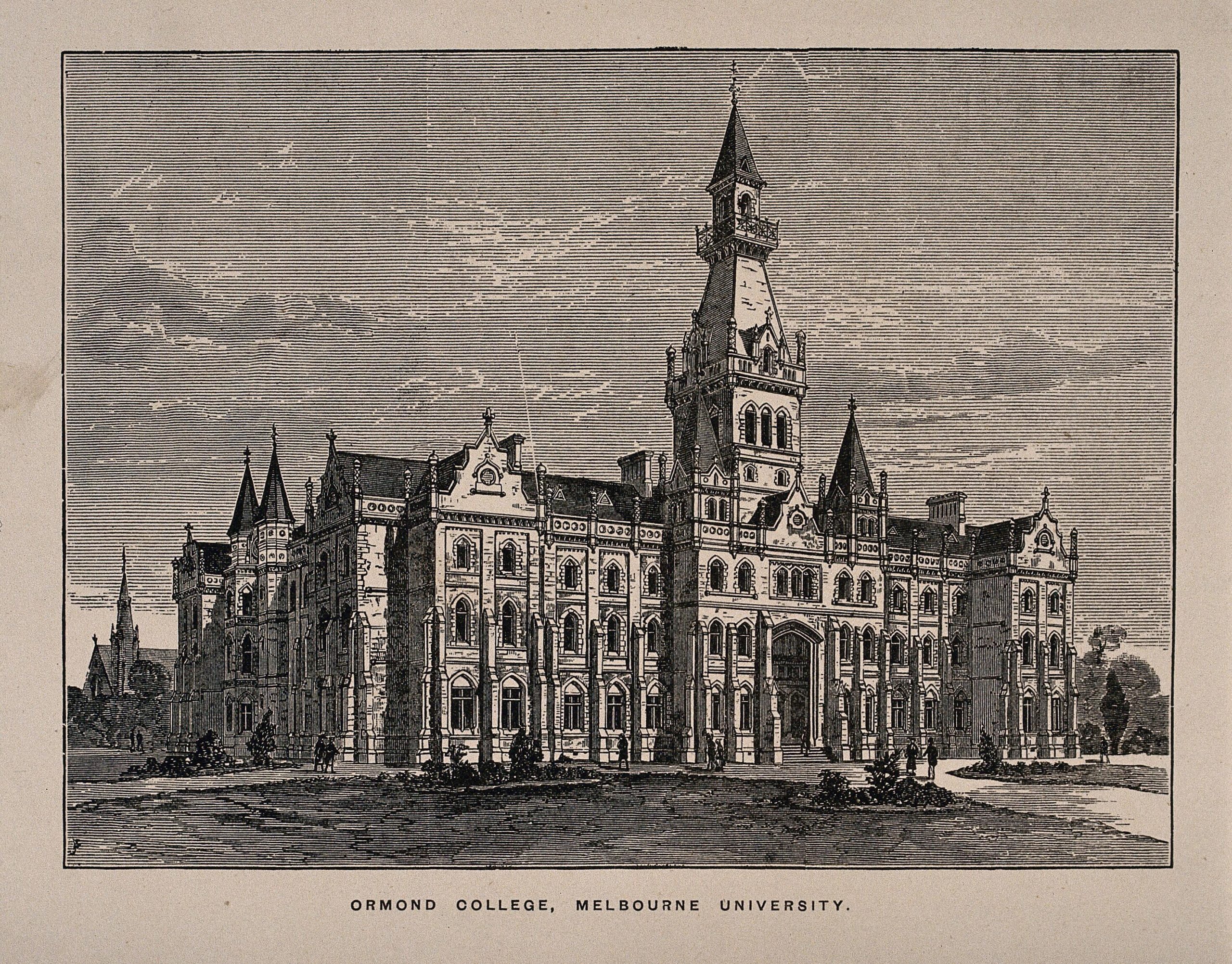 An engraving of Ormond with Trinity College in the background.
Much has changed at the College since 1881, when Melbourne was less than fifty years old and Victoria still an independent colony, but some things remain the same, and none more so than our commitment to community. At the opening ceremony, the Chairman of the College Council reflected that the community was better than authority at shaping young peoples' behaviour. Today, care for the Ormond community remains a driving force in how we operate.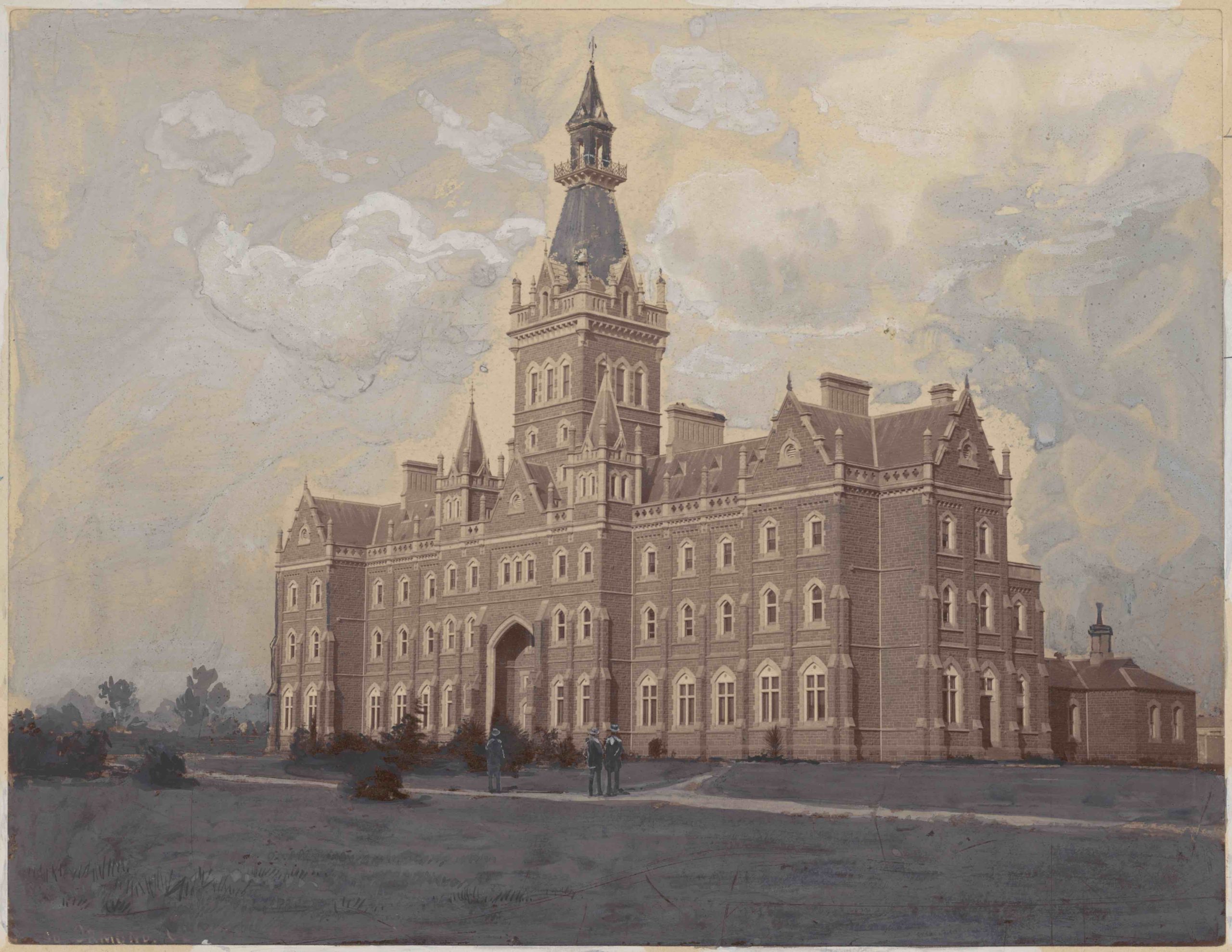 This hand-coloured photograph shows the front wing of Main Building in the early 1880s, before the west side of the Quadrangle was built.
Share your Ormond story
Every Ormondian has their own unique experience of College life, and their own story to tell. What Ormond moment stands out in your memory? Whether on the sporting field or the stage, in the JCR, Dining Hall or on Picken Lawn, share your favourite story of life at Ormond College.