A history of Ormond College
Founded on the progressive ideas of the Scottish Enlightenment, Ormond College has been home to students of all faiths and none since it opened in 1881. Today, it continues to educate young people to make a difference in their community.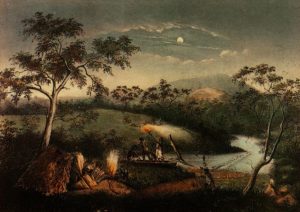 For thousands of years, the Wurundjeri People of the Kulin Nation have been the Traditional Owners of the land on which Ormond stands. The Wurundjeri are the people of the wurun, the river white gum.
1853
An Act of Parliament creates The University of Melbourne and allocates ten acres to the Presbyterian Church to found one of four planned residential colleges on its northern border. This parcel of land will become Ormond College.

1877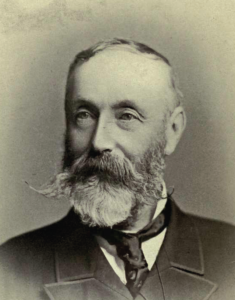 The General Assembly of the Presbyterian Church fundraises for its proposed college; Francis Ormond contributes £22,571 and the college is named in his honour.
1879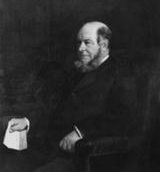 Ormond College's foundation stone is laid by the Governor of Victoria. Construction begins on the front wing of Main Building.
1881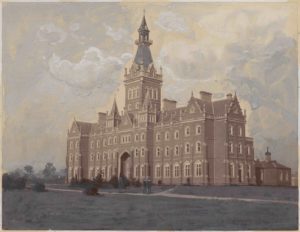 Ormond College is formally opened and Francis Ormond offers to bear the entire cost of building the remainder of the planned buildings.
1881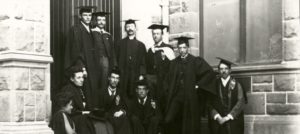 Ormond College is unique amongst University of Melbourne colleges in welcoming students of all faiths and none, a philosophy built upon its Scottish Enlightenment values.
1881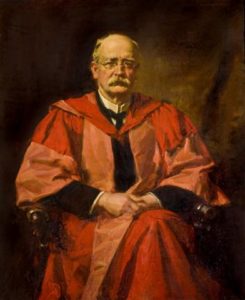 The first Master of Ormond College is John MacFarland (1851-1935), an Irish-Australian mathematician who later becomes a university chancellor.
1914
World War I commences. Many current and former students enlist over the next four years and 60 give their lives.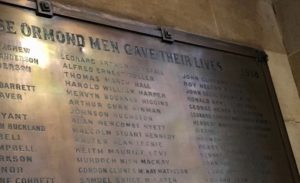 1915
David Picken becomes second Master of Ormond. Guided by his deep Christian faith and mathematical brilliance, he leads the college steadily through the challenges of one world war, the Depression and into another global conflict.
1921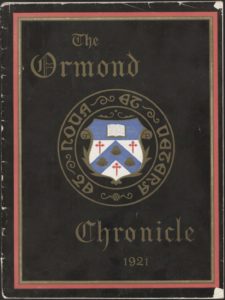 Ormond publishes its first Chronicle, the annual record of life at College which continues to be produced annually. Previously, student life was reported in the Melbourne University Review and Magazine.
1939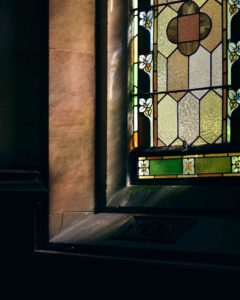 World War II commences.  Many Ormond students and alumni enlist, fight and are wounded; thirty never return. War brings financial, logistic and other challenges to College. This includes everything from rationing and shortages of fuel and labour to the RAAF takeover of part of Main Building as a training facility.
1946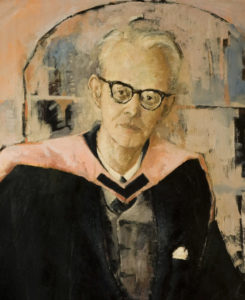 After the many challenges of the wars, Stanley Prescott helps rejuvenate the College and its finances as third Master of Ormond, all accomplished with his trademark diplomacy and wit.
1954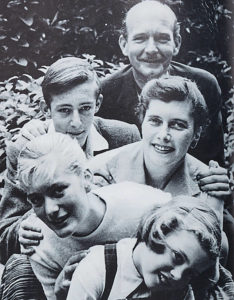 Brinley Newton-John becomes fourth Master of Ormond, moving into Allen House with his family including his five-year-old daughter Olivia Newton-John. A multi-talented wartime codebreaker who was also a television presenter, singer and professor of German literature. Brinley oversaw the rejuvenation of many Ormond interiors.
1958
The Lodge is opened to house the Master and their family, commencing a twenty-year collaboration between the College and iconic Melbourne architects Grounds, Romberg and Boyd.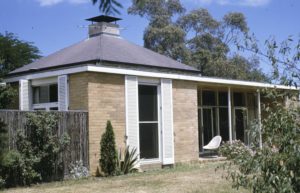 1959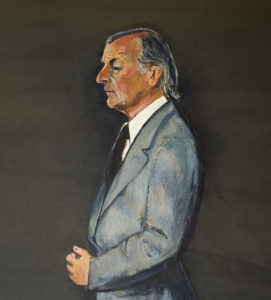 Davis McCaughey begins a twenty-year tenure as Master of Ormond. A much-loved mentor, church leader and later statesman, McCaughey oversees a period of expansion at Ormond. He strengthens the academic program, increases the number of scholarships for students and oversees the College's transition to co-education.
1962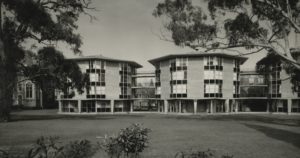 The College begins to expand as demand for places grows. Ormond opens Picken Court, innovative new student accommodation designed by Frederick Romberg.

1965
The MacFarland Library (now the Academic Centre) opens. Its striking octagonal design is by Frederick Romberg, who also designed McCaughey Court.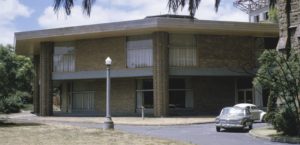 1968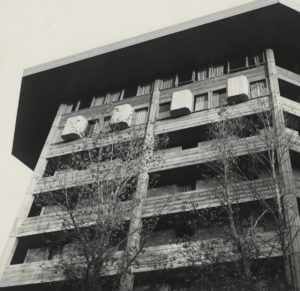 McCaughey Court is opened by alumnus and former Prime Minister Sir Robert Menzies. The building provides new accommodation for Ormond undergraduates and for the first time dedicated spaces for graduates with families.
1973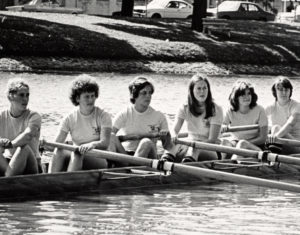 Women students join the college as co-residents and Ormond becomes fully co-educational.
1974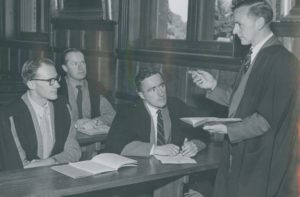 Ormond's Theological Hall officially becomes a separate entity from the College when the Presbyterian Church becomes part of the Uniting Church of Australia. Today, Ormond no longer teaches theology or trains ministers.
1980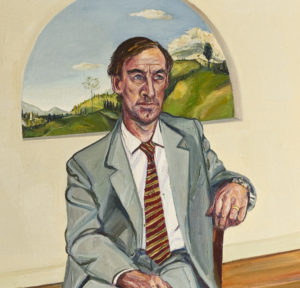 David Parker becomes the sixth Master of Ormond. Highly respected by students, Parker oversaw substantial development of the Ormond grounds, including the eponymous terrace stillenjoyed by students  today.
1981
Ormond celebrates its 100th birthday with a series of festivities including a dinner and theatrical tableau, a commissioned history, a fundraising campaign and an anniversary print.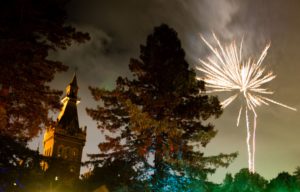 1981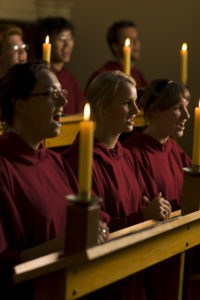 The Choir of Ormond College is formed, directed by Douglas Lawrence. Composed mostly of Ormond students, it goes on to perform, record and tour internationally.
1988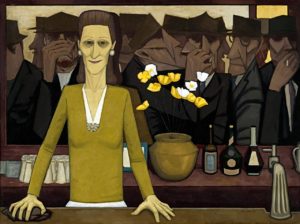 The sale of a painting by John Brack creates the Brack Fund, which funds the Ormond College Students' Club Brack Collection of contemporary art.
1990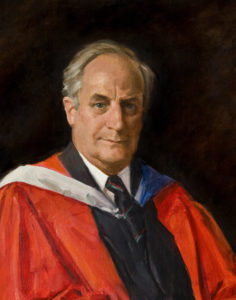 Alan Gregory becomes the seventh Master of Ormond, as part of a long career in education, during which he has published widely in the field and in economics and history.
1994
Distinguished political scientist Hugh Collins begins 15 years as Master of Ormond College. A kind and personable leader who takes an interest in every student, he works to build a confident, fun and scholarly culture at Ormond that is also responsible and caring. He also helps make the College more diverse, including expanding its scholarship program.
1996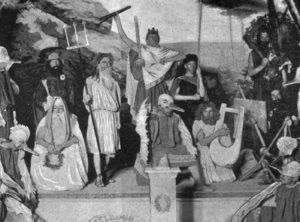 Ormond celebrates 100 years of drama, marking a century since College students performed the first of a series of Ancient Greek plays by Aristophanes, in the original language complete with costumes and new music. In that century the College produced and performed everything from Shakespeare to contemporary plays, from musicals to modernist drama.
2009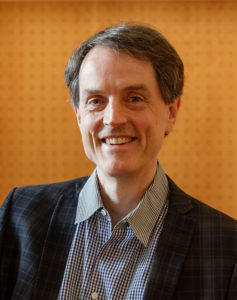 Rhodes Scholar, minister, ethicist and management consultant Assoc Prof Rufus Black becomes Master of Ormond. He creates a culture where students strive to make a disproportionate difference and presides over a period of expansion and renewal, including overseeing five construction projects.
2010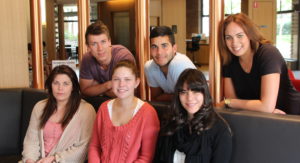 Ormond's Indigenous Program commences, bringing more Indigenous students to the College and supporting them to both achieve their full academic potential and make a disproportionate difference to the community.
2011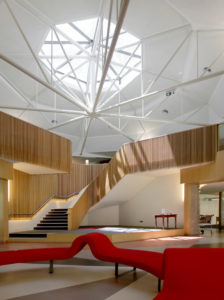 The rejuvenated MacFarland Library is reopened as the Academic Centre, which as well as books and other resources provides fresh new study, office and tutorial spaces. This follows the departure of the Theological Hall library into new external premises.
2013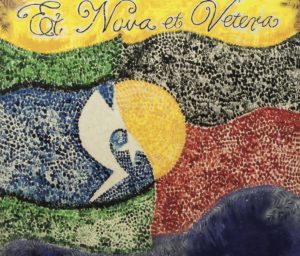 Ormond launches its first Reconciliation Action Plan. It outlines a comprehensive plan for engaging with Aboriginal and Torres Strait Islander students and community members in concert with members of the non-Aboriginal and Torres Strait Islander community under the headings of respect, education and relationships.
2014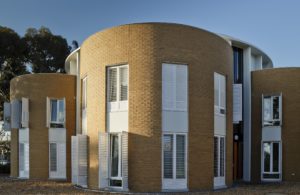 The College opens the first of two dedicated buildings for graduate students, who have grown in number The University of Melbourne made degrees such as Medicine, Law, Education and Architecture into postgraduate qualifications.
2016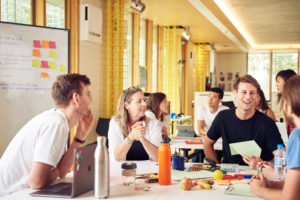 Ormond's Wade Institute of Entrepreneurship opens following a donation from successful businessman and alumnus Peter Wade. It becomes a leading centre for entrepreneurial training, it delivers immersive education programs to accelerate learning, creation & connection.
2018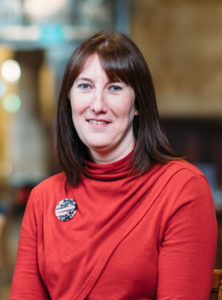 Lara McKay becomes Ormond's tenth Master. With a Communications and leadership background, Lara guides the College steadily through a changing student accommodation landscape and a challenging global situation.
2019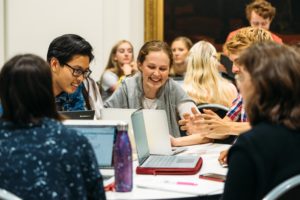 The Associate Ormond College program is launched to provide students with the skills to succeed in the twenty-first century workplace.
2020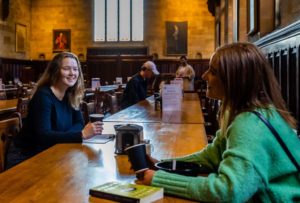 COVID-19 and extended lockdowns in Melbourne challenge the College to find news ways to operate and connect but the commitment of students and staff see it survive and thrive.
2021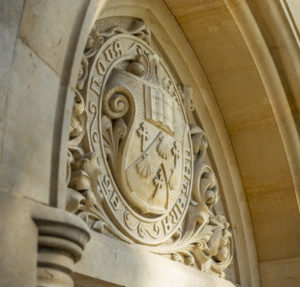 Ormond College celebrates its 140th anniversary.
2023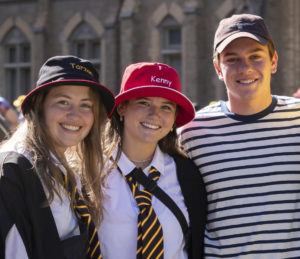 Ormond celebrates 50 years as a fully co-educational college.
Tell us more
What milestones would you add to a timeline of Ormond history? What other key events might you include? Let us know.