While Ormond's best-known edifice is perhaps its neo-gothic Main Building, its mid-century modern architecture is no less significant. Designed by some of Australia's most important modernist architects and built during the 1950s and 1960s, our our mid-century buildings are ground-breaking and influential.
Ormond's choice of modernist architecture over a traditional style is significant. While comparable institutions built mid-century extensions that faintly imitated their older buildings, Ormond has always deployed the latest in architectural practice. Its mid-century buildings were no exception. The sandy, neutral colours and polygonal shapes of the Lodge, Picken Court, McCaughey Court are in harmony with each other and Main Building whilst being resolutely modern.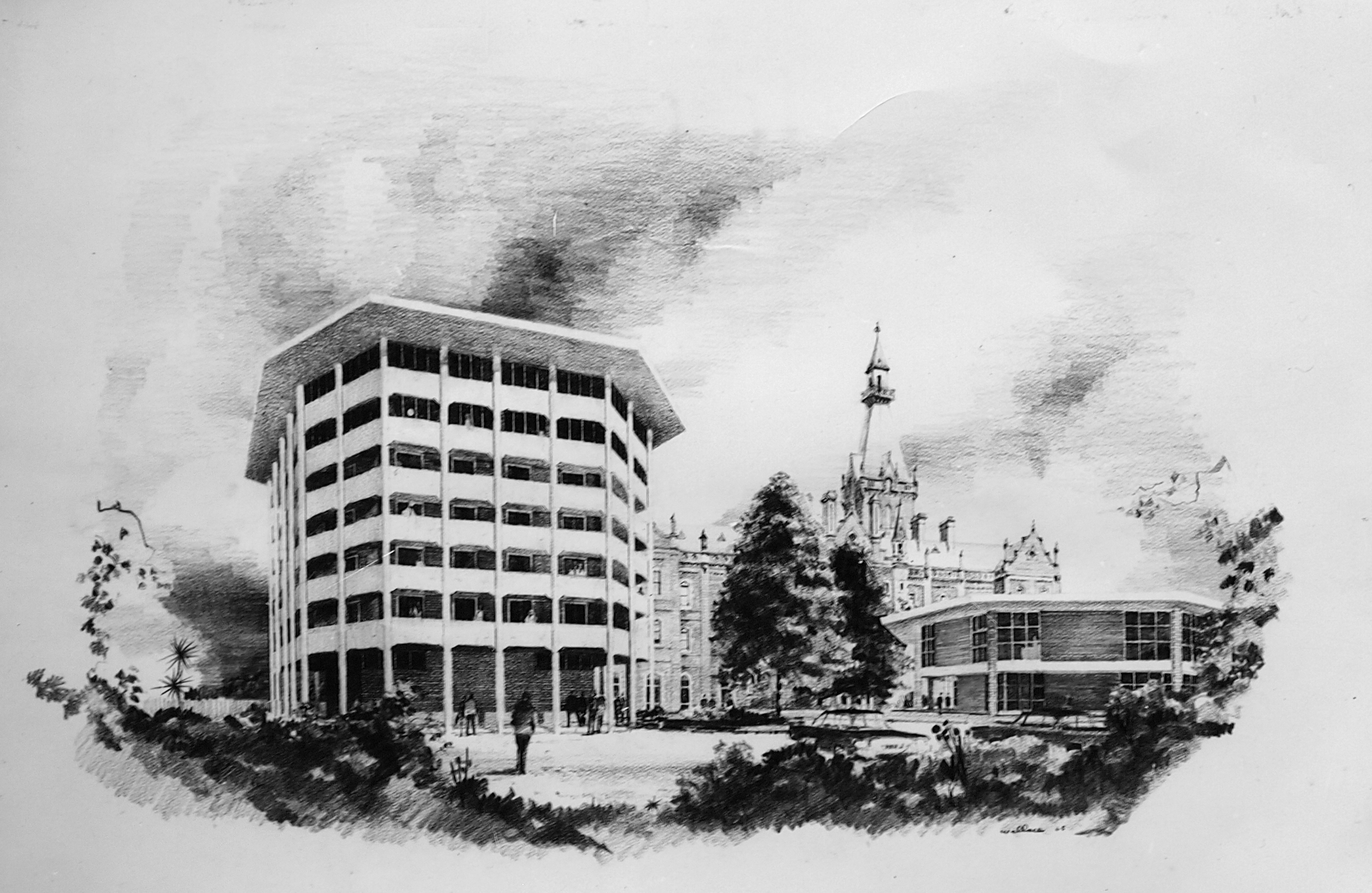 An architect's sketch of McCaughey Court from 1965, three years before it was completed.
To design its modern buildings, Ormond formed a two-decade partnership with some of Australia's most significant modern architects, Grounds, Romberg and Boyd. Household names who were responsible for a series of iconic Melbourne buildings, the trio were so prominent that their firm was known by a celebrity-style nickname, 'Gromboyd'. Another architect from the firm, Berenice Harris, played a key part in the Ormond designs.
The firm's first projects for the College were the Allen House extension and the Lodge, which has a small turret that echoes Main Building and whose warm, light-filled interiors are as enticing as when they were first built.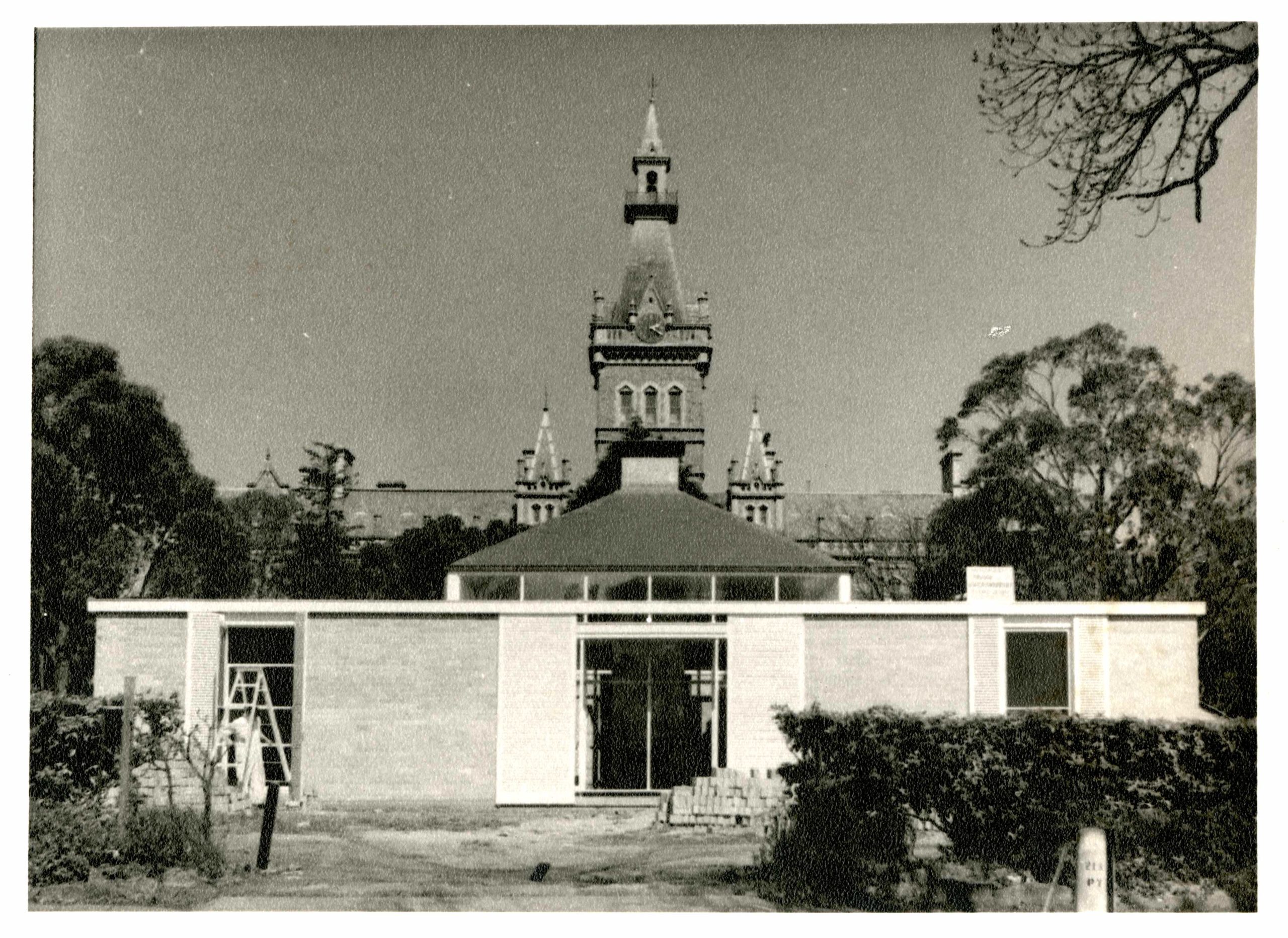 The Lodge under construction. Its central turret echoes the Tower; both are built on the central axis of the Ormond site.
Picken Court was a distinct departure from the style of Main Building. The three polygonal buildings were designed as 'pavilions in the park' that both echoed the form of the nearby Allen House extension and solved the problem of which direction buildings should face on Ormond's wedge-shaped site. They were immediately popular with students.
The MacFarland Library's polygonal shape echoed Picken and and its warm sandy-coloured brick complemented Main Building's sandstone. With a glass section in the centre of its roof (revealed in the 2010 refurbishment) flooding the building with light and its unusual dog-toothed exterior columns, this building is a firm favourite at Ormond.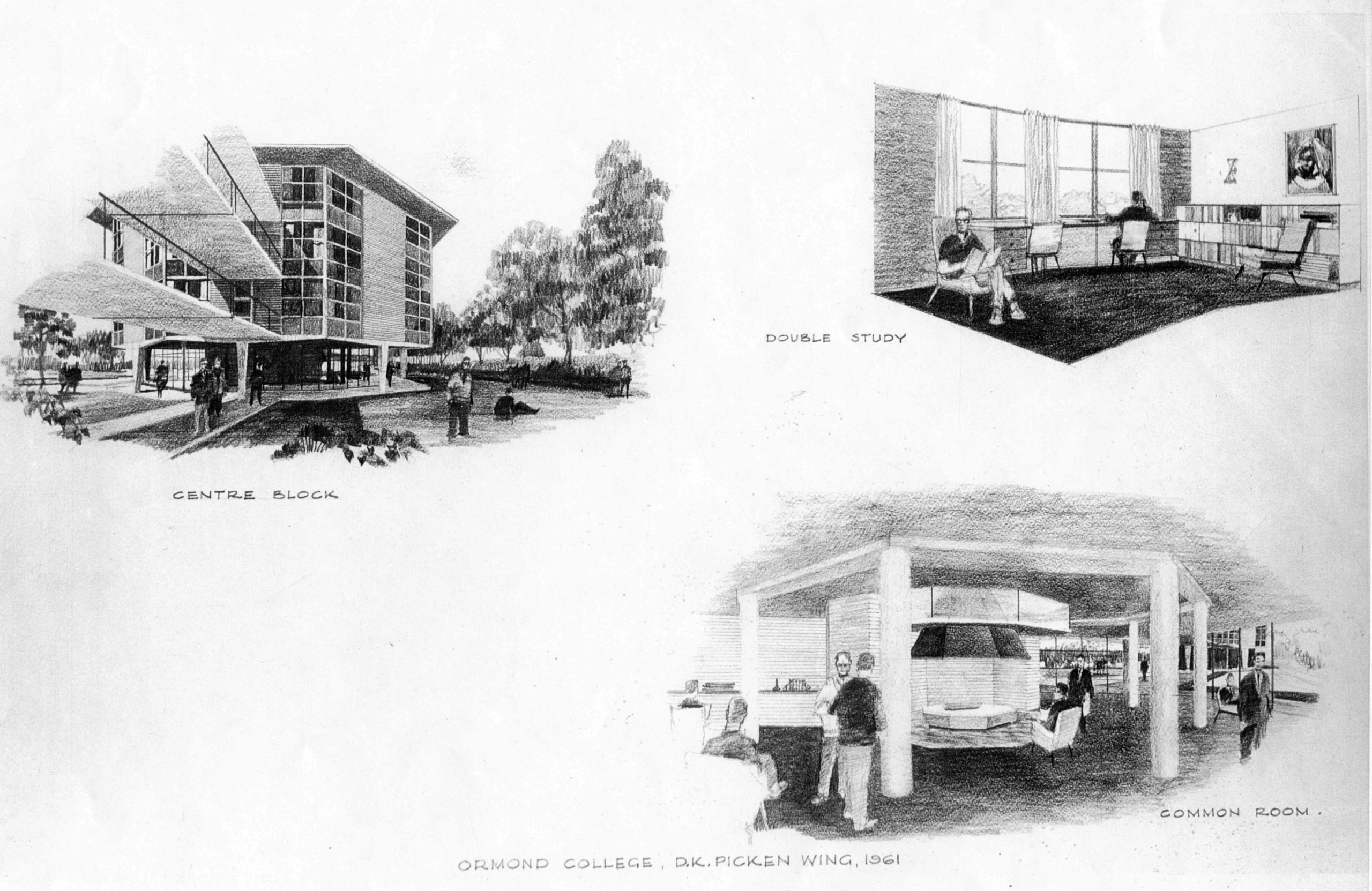 Architects' sketches of Picken Court, 1961.
McCaughey Court was innovative in different ways. Firstly, its apartment facilities allowed Ormond to welcome married graduate students and their young families. It also deployed a new architectural style called brutalism, after the French for 'raw.' This referred to the ground-breaking use of unfinished concrete as an external finish.
Together, this corpus of mid-century buildings were significant contributions to modernist architecture in Melbourne. Ormond's dedication to architectural innovation continues today, with its most recent building, Wade Institute (2015) deploying Passivhaus techniques.
An early concept sketch of the MacFarland Library.
Tell us more
Every Ormondian has their own unique experience of College life, and their own story to tell. Which of Ormond's buildings  stands out in your memory?