Music has always had a way of taking me back to old places and people. Even now I am taken back to student days from old riffs used in new songs, for example Fleetwood Mac's 1977 Dreams by Jolyon Petch. What was old is new again, Et Vetera Et Nova!
The Ormond Tower was the focal point of many parties in the late 70s, and later the Lower Towers after the Upper Tower was closed. Tower parties in the late 70s were dominated by Lou Reed (Walk on the Wild Side), JJ Cale (They Call me the Breeze, Cocaine), Neil Young (Heart of Gold, Old Man) and anything from The Eagles (such as Take it Easy, Witchy Woman) We often finished our parties with a chorus of Desperado. Most of these songs are still around or have been recycled. Other recycled songs from this time include Gloria Gaynor's I Will Survive and Credence Clearwater's Favourite Son.
David Bowie's Changes, Jean Genie and the Rolling Stones's Start Me Up were mainstays as was ACDC's 'It's a long way to the shop if you want a sausage roll'. Bowie's We Can Be Heroes was a favourite of the football team, and Survivor's Eye of the Tiger blared out across the University Oval from McCaughey Court as we ran on for football matches.
Individuals also had signature tunes. One medical student played Dire Straits's Sultans of Swing seemingly every night at maximum volume while he studied. Another played Bruce Springsteen's Born to Run over and over and over again in Picken Court.
My roommate in Rm 140 liked Peter Frampton (Do You Feel Like We Do) and had the same long hair style. Later he preferred Jo Jackson Real Men. I remember his parents visiting. I became the new owner of brand new 195cm snow skis for the day, making sure they didn't find out about his unauthorised expensive purchase.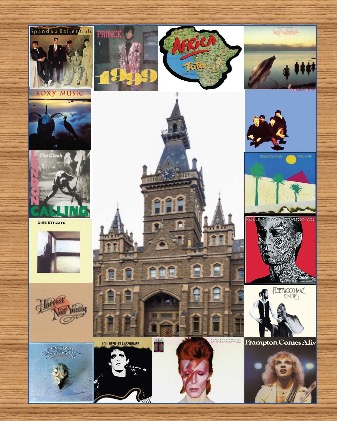 The wilder years of the 70s gave way to a more sedate 80s as we commenced the clinical years of Medicine. We moved on to The Cure's Boys Don't Cry, and The Clash's Fire in Cairo. Talking Heads was popular as was Supertramp's Breakfast in America. 
I heard that Lola by the Kinks, and Gloria by Van Morrison were staples in the back bar at Naughtons, although of course I was never there. Australian bands came to the fore in the 80s with The Sunny Boys with Alone with You, The Church's Unguarded Moment and Australian Crawl's The Boys Light Up. 
For three months over summer 1982-83, while in the UK on my elective, Spandau Ballet's Gold dominated the charts, along with Culture Club's Karma Chameleon and Bryan Ferry's Avalon, Let's Stick Together. All of these artists have been recently covered or riffs used in recent years. Toto's Africa from 1982 is a hit again and in 1983, final year, it was Prince dancing like it was 1999, which seemed a long way away then. 
I vividly remember calling home after seeing on the BBC a huge cloud of dust and smoke envelope Melbourne during the February 1983 bushfires.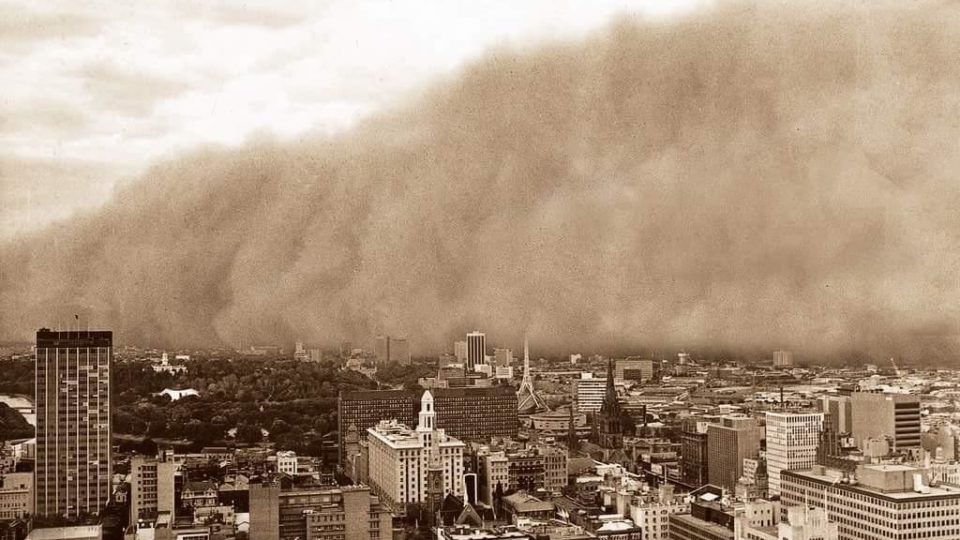 Melbourne enveloped by dust and smoke during the Ash Wednesday bushfires in 1983.
Any piece about songs at Ormond has to include Elgar's Land of Hope and Glory and we even modified that by adding a syllable 'Ah' to the start of every second phrase to give it a more 'heroic football theme song' tone. The added syllable falls just before the beat:
Ah Land of Hope and Glory, father of the free
Ah How shall we extol thee, who were born of thee.
Ah Wider still and wider, shall thy bounds be set
Ah God who made thee mighty, make thee mightier yet
Ah God who made thee mighty, make thee mightier yet.
Whenever I hear these songs now, I always think of Ormond and remember, we were students once, and young.
Share your Ormond story
Do you have a favourite memory of an Ormond song, or a song at Ormond? Share your favourite story of life at Ormond College.