The Ievers Dinner was the least important and the greatest night in the Ormond calendar.  It started mighty and finished mightier yet.
Nominally a celebration of the life of George Hawkins Ievers, a businessman and Melbourne City Councillor, it was also a celebration of self-celebration, for Ievers seemed to us to do little more in public life than erect statues of himself, his father and his brother – councillors all.  
Hardly surprising that young Ormondians, equally confident in their exalted place in the world and practiced in the arts of celebration would identify with G.H. Ievers.
A memorial drinking fountain erected by George Hawkins Ievers in memory of his father; a touching gesture made 14 years after his father's passing.
Each June, Ormond students made a reverent pilgrimage across Royal Parade to hear something of the life of the great man and to celebrate in the customary way. 'How shall we extol thee?' was the question.  But we knew, and we always answered the same way. 
The speaker was always a luminary of more-recent standing – sometimes a former Chair, always a glib orator. Angus Canvin was wonderful and terrifying, he fanned flames of irreverence that were burning bright enough already. 
The wisdom imparted is lost to me now and the (so-called) Chronicle provides little assistance, but the memories remain. What motorists and tram-commuters up Royal Parade made of the spectacle can only be pondered, for a spectacle it was, with all involved clad in fancy dress.  
What better way for undergraduates to pay tribute to rampant self-aggrandisement than to dress-up, eat, drink, and be merry. No-one ever much wondered what those who lived outside the main gates might have thought.
I remember a '1970s' theme, 'Heaven and Hell' and 'Hollywood Heroes' but not a lot more. The themes may not stand the test of time (unlike the guests!) but it was the 80s and this was how wide the bounds were set (get it?).    
Sated and singing, it was back to the Hall for a formal dinner. The meal always ended with a 'celebration of gratitude' for the food we were privileged to receive.
And then there was a smoko. The ubiquitous DJ Crocodile Rock at one. Perhaps the Ormond Band?  We covered politics, philosophy, love, joy and sadness. There were acts of greatness, kindness and utter stupidity. Yes (channeling Calvino, the author pauses and laughs before continuing on) more than one of those.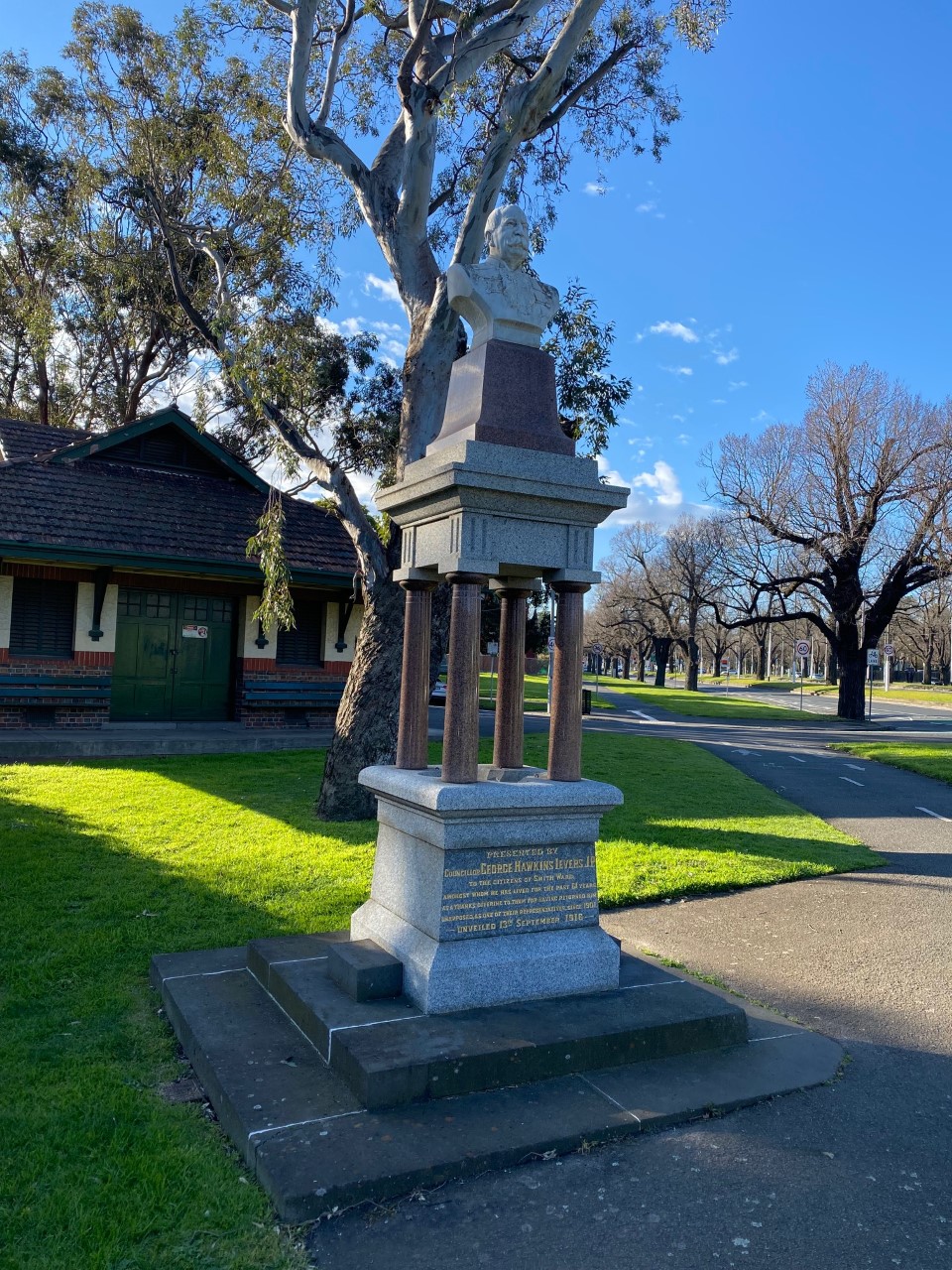 George Hawkins Ievers erected this statue and drinking fountain in his own honour. The good citizens of Smith Ward must have been grateful.
This Is Serious Mum and the clock on the silo said 11 degrees. Though we yelled that they might, no-one went home in the back of a divvy van – did they? We knew we'd be weary the next day but that everything'll be alright.  
As near as I can work out, the Ievers Dinner was abandoned in the 1990s. There had been a surfeit of excess it seems. It all got too much.  
Now that I reflect and reminisce, it strikes me, perhaps there is more to George's legacy than some self-serving and probably unplumbed fountains. It was a celebration of irreverence and fun in our time of Hope and Glory. And we're talking about it in 2021. 
I wonder, can we bring a little of that back? The once-honoured shrine in Royal Parade was unveiled on 13 September 1916 (art historians call it a 'shrine-like drinking fountain'. You can't make this stuff up). On that day, let's raise a glass to celebrate the legacy of George Hawkins Ievers, our families, our friends and our memories.  
Good times, my friends, they sing in me still.  
Tell us more
Every Ormondian has their own unique experience of College life, and their own story to tell. Which event, celebration or smoko stands out in your memory?